Craig Levine and The Levine Team
Thank you for considering The Levine Team's services for the disposition of your non-performing assets. Since 1994, I have been a realtor in the Greater Metropolitan Atlanta area specializing in residential and foreclosure property sales.
In 2002, I became licensed in Florida to help my clients take advantage of investment opportunities on the panhandle of Florida. Over the years, The Levine Team has distinguished itself from other realtors serving the Atlanta and Destin/Panama City Beach markets through our innovative advertising techniques and the exemplary oversight and service that we commit to each and every transaction.
Through the implementation of our vastly successful web site, AtlantaForeclosures.net, The Levine Team has become synonymous with foreclosure property in Atlanta and the surrounding cities. In any given month, on average, AtlantaForeclosures.net tracks over 10,000 unique visitors (not hits). Our web site has become a powerful platform for the exposure of foreclosure property in and around Atlanta.
In 2002, we developed MyDestinHome.com to allow our clients access to the Florida panhandle investment market. Now, we'd like to put our web sites to work for you.
What we do for Asset Managers

Advertising
The Levine Team will feature your Atlanta REO and Georgia REO listings on the home page of the member's portion of AtlantaForeclosures.net (Featured Foreclosures), the page that all members will see immediately upon logging in.
Properties in the Destin/Panama City Beach areas will be featured on both, AtlantaForeclosures.net and on MyDestinHome.com. In addition, these properties will be featured as Showcase listings at GeorgiaREOAgent.net, CraigSellsHomes.com and Realtor.com, as well.
I personally guarantee that no other realtor will be able to match the marketing exposure that we bring to your properties which will translate into a more expeditious turn in your inventory.
In addition, all of our Atlanta REO and Georgia REO listings are entered into both Atlanta listing services, FMLS and Georgia MLS within 24 hours of receiving a list letter. The maximum number of welcoming photos allowed are uploaded at that time, as well.
The Levine Team designs color flyers, that are accessible curbside, for all of our properties. These allow a potential purchaser to leave the Georgia REO with tangible marketing material that will enable them to remember the home and call us with any questions or to place an offer.
Each of our Georgia REO and Atlanta REO listings is advertised on the local real estate cable channel, as well, giving our foreclosure listings tremendous exposure in the Metropolitan Atlanta area.
Our Georgia REO and Atlanta REO properties are advertised in the local Real Estate Book.
We create a Virtual Tour of each Georgia REO and Atlanta REO with up to 40 pictures and we then post it to hundreds of web sites, including Realtor.com, to maximize international exposure.
Services
*Establishment of utilities in our name, where desired
*Monthly submission of reimbursement
*Timely submission of Monthly Status Reports
*Multiple bids obtained on all work to be performed and oversight
of repairs
*Thorough BPO including photos of comps, photos of needed
repairs, interior and exterior photos, photos of influencing factors
*Monitoring of occupancy before and after foreclosure
*Bi-weekly feedback on property activity
*Professional handling of all leads on the property
*Pre-Qualify all potential buyers through your local mortgage
representative prior to submitting offer, thereby increasing the
chance of a new in-house loan
*Negotiate all offers
*Handle closing details

Guarantee
The Levine Team would love to earn your business and will do what it takes to do so. If for any reason you are not satisfied with our ability to market a Georgia REO or Atlanta REO property assignment, we will gladly coordinate in the transfer of the listing to another agent and will provide the new listing agent with contact information for all buyer's agents that had clients who showed an interest in the property during our marketing period.
Please don't hesitate to call me to discuss any questions or concerns that you may have regarding our services. We look forward to a prosperous year with you in 2017 and hope that you will give us the opportunity to earn your respect.
Sincerely,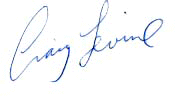 Craig Levine
Georgia REO Foreclosure Specialist
Member REOMAC
Member FiveStar
Member Equator Certified Gold
Member RES.net AMP Professional
Member REOConnection
Member REO Network
Realtor Serving Thousands of Clients Since 1994
Associate Broker in Georgia and Florida
Graduate of the Realtor Institute (GRI)
Certified Luxury Home Marketing Specialist (CLHMS)
Certified Distressed Property Expert (CDPE)
Accredited REO Agent (AREO)
Short Sale and Foreclosure Resource Specialist (SFR)
Real Estate Property Management Specialist (REPM)
Top 1% of Realtors Nationally

RE/MAX Greater Atlanta (Atlanta) - Associate Broker
Southern Disposition, LLC - Broker/Owner
Baywalk Real Estate (Destin/Panama City Beach, Florida) - Broker Associate

678-784-4493 (Office)
678-898-4001 (Cell)
888-8-LEVINE (Toll Free)
678-301-3804 (Fax)
Visit Our Arsenal of Award-Winning Real Estate Web Sites:
http://www.CraigSellsHomes.com
http://www.AtlantaMansions.net
http://www.AtlantaForeclosures.net
http://www.GeorgiaShortSale.net
http://www.AtlantaHomesAtlantaRealEstate.com